ARIS Advanced Starter Packages
ARIS Advanced Starter Package XS
Do you want to save money when using the comprehensive features of ARIS Advanced? Get started now and avail yourself of the pricing advantage of 15% for our preconfigured ARIS Advanced Starter Package XS compared to the regular shop price!
The package covers the base fee and consists of 1 Admin license, 2 Designer licenses and 2 viewer packs (with 10 viewers each, 20 viewers in total).
Our pricing packages are the perfect balance for BPM starters who want improve and transform their business processes, collect feedback from important stakeholders in the company and share the results within their organization.
ARIS Advanced Starter Package S
You're already settled for ARIS Advanced? Benefit from our packaged offering ARIS Advanced Starter Package S and avail yourself of the pricing advantage of 20% compared to the regular shop price!
The Starter Package S consists of the base fee plus 1 Admin license, 5 Designer licenses and 2 viewer packs (with 10 viewers each, 20 viewers in total).
Contact us now to get started!
Market-leading design capabilities
Extend the scope of your modeling activities. ARIS Advanced offers > 100 model types to map and analyze your organization. Describe how your business should be. From business models to detailed process maps or comprehensive application architectures, you can find plenty of options to help you design the model that best fits your needs. ARIS Advanced offers you the ability to create your own design conventions.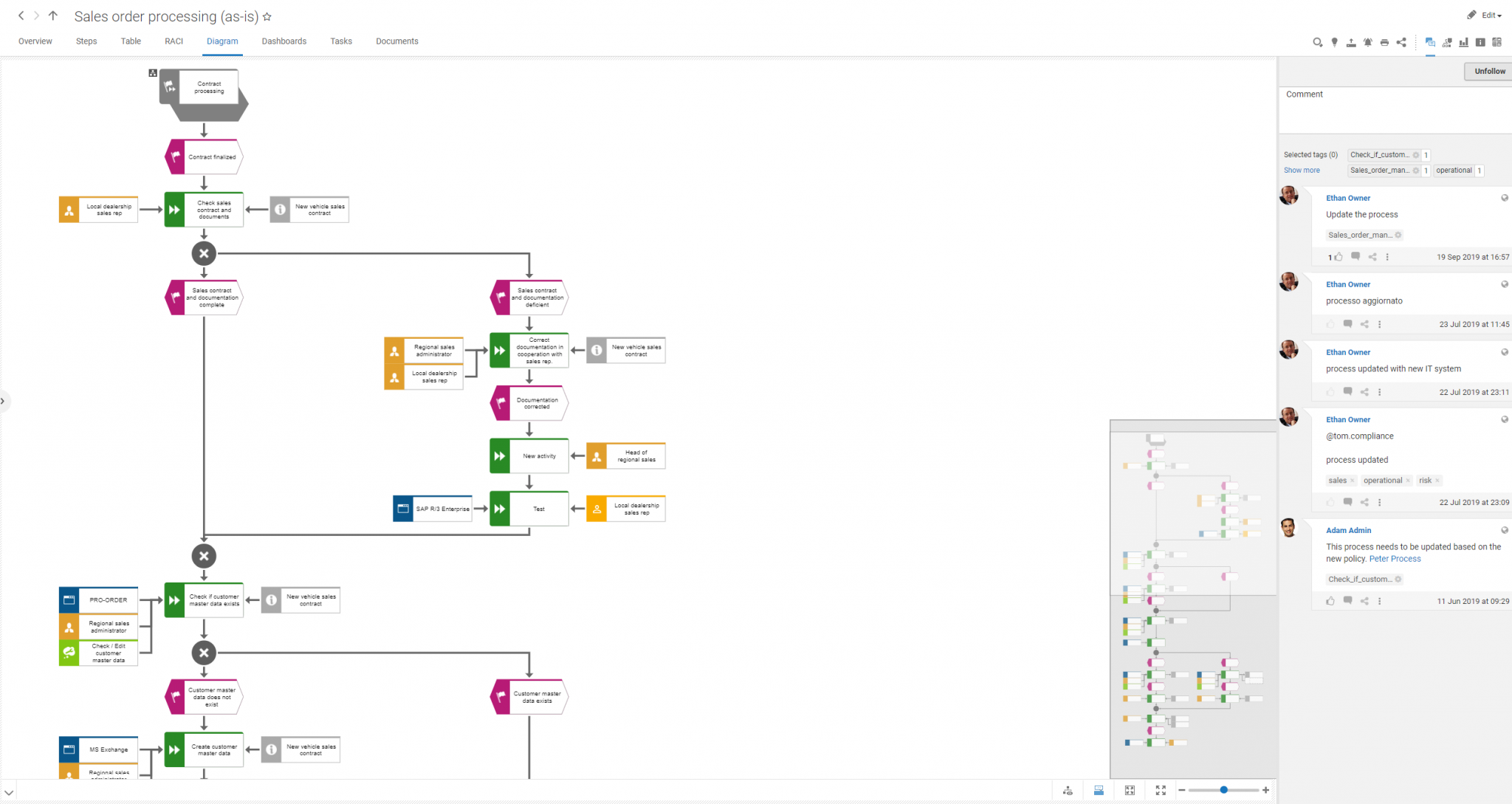 Social collaboration with your peers
Improving and transforming business processes is a highly collaborative task: Let your colleagues and customers join your process excellence activities. Use the comments and feedback function to gain insights from everyone and work to build a better business in the future.
Analyze to maximize the value from your data
With ARIS Advanced, you get additional standard reports. If you are more experienced in process management, you can easily customize your reports to get the most out of your data: Create special views on your data or export the data from ARIS into your own tools. Run reports with your specific conventions based on a WYSIWYG editor or scripting. It's all in your hands!
Manage & extend your cloud
As you grow with your initiatives, you will need to incorporate more users in your environment. Easily add additional databases as separate workspaces, manage the permissions of your users or import and export your data on-the fly with the ARIS Advanced edition. It will give you all the flexibility you need to have different target groups working in the same cloud environment.
Take the fast road to ISO 9001 certification with ARIS
Are you aiming for professional quality management – likely with the goal to get a ISO 9001 certification or re-certification?
Build your quality management system in record time and quality with our ARIS Content Package 9001:2015. It puts you on the fast track to certification with checklists, templates and best practices for your quality management system. You'll save 2-3 months in ramp-up effort and get to certification faster.
User types & Extensions
Designer
A designer creates new content in ARIS but can also consume and contribute to published content.
Viewer
A viewer consumes published content.
Admin
Admin focuses on functional administration of ARIS as a single source of truth and as an Enterprise Management System. Admins set up and manage the process office, ensure successful implementations, manage user and license management, enforce standards and the quality of work in the ARIS database.
SAP® Solution
The SAP® Solution extension adds capabilities to support holistic implementation and rollout of SAP projects, testing, communication, training & go-live support.
We chose ARIS because we required a cloud solution that combines ease-of-use with a powerful methodology toolbox. Our designers could be on-boarded within just a few days and, with more than 100 diagram types, it meant they could quickly cover all aspects of our business. The collaboration and contribution features involve all users and foster the interactive creation of business processes.

Johannes Wöhler

CTO, Digital Education Holdings Ltd.